Festive Greetings for a Merry Christmas and Holiday Wishes
Welcome to our festive collection of 9 Merry Christmas and Holiday Wishes themed images! Spread joy and warmth this holiday season with our beautifully crafted images, each adorned with a heartfelt holiday greeting set against a charming and decorative background. What makes these images extra special is the subtle touch of animation, as they are all in gif format, adding a dash of merriment to your messages. Perfect for text messages, social media posts, or emails, these delightful images capture the spirit of the season. Best of all, it's as easy as a click to download your favorites and share the holiday cheer with your loved ones. Make your greetings stand out with our collection of festive and animated Christmas wishes!
Simply click the images below to download and enjoy!
Merry Joyful Holiday
May your holiday be merry, joyful
and surrounded by loved ones
Baubles and Snowflakes
As the snowflakes dance and the bells chimes,
may your Christmas be merry and bright,
filled with moments of pure delight.
Warmest wishes for the holidays!
Snow Falling Christmas Cabin
May the twinking lights and
festive cheer brighten your
home and heart.v Merry Christmas and a
Happy New Year
filled with blessings!

Holiday Candles Holiday Wishes
May the spirit of Christmas fill your home with peace, your heart with love, and your life with laughter.
Magical Holiday Wishes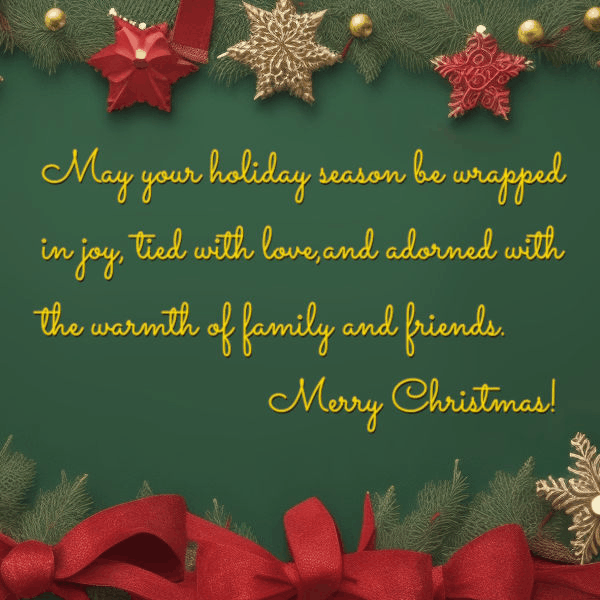 May your holiday season be wrapped in joy,
tied with love, and adorned with
the warmth of family and friends.
- Merry Christmas!
Christmas Tree Holiday Wish
Sending you warm wishes
for a cozy Christmas,
surrounded by the love
of family and friends.
May your holidays be filled
with laughter and
unforgettable moments.

Christmas Season Holiday Wishes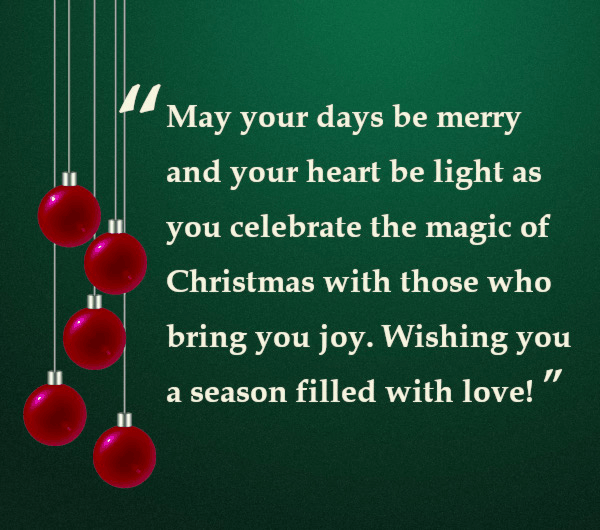 May your days be merry
and your heart be lights as
you celebrate the magic of
Christmas with those who
bring you joy.
Wishing you a season filled
with love!
Holiday Wishes on White Magical Background
Sending you a sleigh full
of warm wishes, a sack
full of smiles, and a
stocking overflowing with love.
Merry Christmas to you and yours!

Merry Christmas Morning Message
As you unwrap the gifts of
the season, may you find joy
in the simple pleasures,
cherish the moments with
loved ones, and create
memories that last a lifetime.