Happy Birthday GIFs for Her
You woke up, and it's her birthday! She wakes up, and checks her phone. Make sure there is something there to greet her with a customized happy birthday gif. We've pick out 10 gifs we think she'll love. You can add her name to all of them, and customize things like fonts, colors, and images.
Click each thumbnail to open the gif in a new edit window where you can personalize it for her. Below are thumbnails - actual gifs will be a bit larger and have smoother animation.
Let's begin...
Cute and Romantic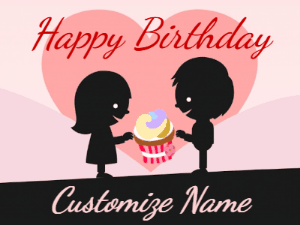 Two cute characters share a birthday cupcake surrounded by hearts. Customize the text, colors, and fonts. You can also choose a different cupcake or different color hearts using the image icon. BTW, this gif is not particularly popular, so.... let's change that?
Relax on her birthday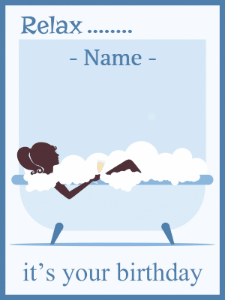 Remind her to relax in a soothing bubble bath on her birthday. Bubbles gently rise over this image created by Karen Arnold and available from Public Domain Pictures .net Called "Woman Bubble Bath Champagne" she has made it avaible in the public domain under the CC0 license.
Personalize the message just for her, set the name, and its color and font.
Purple Balloon and Birthday Flowers GIF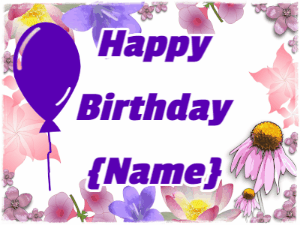 This one is pretty simple and really really purple. A purple balloon and flowing flowers with a birthday message. You can change the color of the balloon, and use the image icon to change the flowers the flow past. You can also upload your own image for the background.
Three lines to customize with their colors, and font.
Song birds in a birthday tree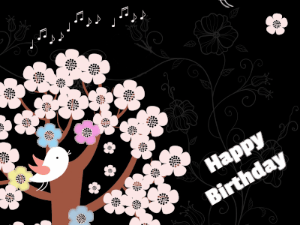 The focus of this gif are the stylized song birds. One bird is in a blossoming tree and a bird with blue wings flies in to sing happy birthday. Music notes float onto the scene as well. You can customize the name and many of the colors in the gif. With the image icon, you can change the images like the music notes (actually, it's kind of fun to swap out the musical notes with more birds.)
A birthday champagne gif for her
Happy Birthday GIF showing two champagne glasses toasting on a purple background with a cursive font message you can personalize. Heart textured letters and falling stars confetti. Star shoot out and grow - hard to explain, but it's nice.
You can personalize the greeting and customize the fonts, colors, and images by using the image icon.
Romantic Rose Animated Birthday GIF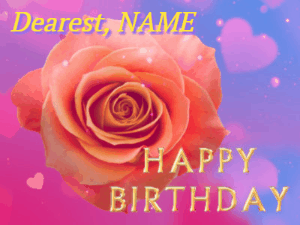 This birthday gif is really simple. It is a beautiful rose with hearts and sparkles coming and going over top. It reads "Happy Birthday" and the top line text reads "Dearest, Name", but you can customize that. For the name, you can customize the colors and font as per usual.
Romantic Dinner Birthday GIF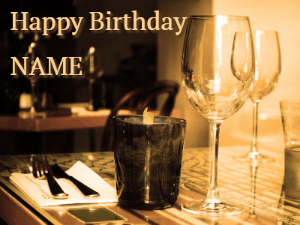 So simple and elegant. Only the flame of the candle is animated and that's enough. Sometimes I think serif fonts and ugly, but here's an example of where they really work. Of course, you can set your own font, I think serif works well here. Personalize the birthday greeting and name was well as their font and colors.
Happy Birthday Cupcakes
5 tasty cupcakes in a row, what's better than that for a birthday greeting. This animated gif is super simple with just flickering candles and rocking text. You can customize the message, and name, along with the font, color and border color.
Each cupcake can be switched out for others, using the image icon. The background is light pink made of floating hearts, but you can also use the image icon to choose a different background. Also you can upload your own background.
A Very Pink Hearts and Birthday Cake GIF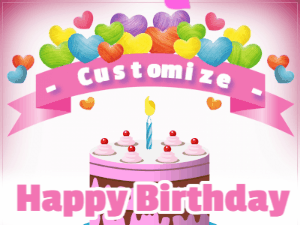 Mostly pink with hearts and a cake. This one is a bit unique, as you enter the name for the top banner, and you can change the "Happy Birthday" on the bottom too. Set the fonts and colors separately as well.
The image icon will let you change the cake and the hearts that fall. Changing the hearts, means to change their colors. You can also upload your own background picture if you want.