Good Morning Gifs to Personalize
Open our good morning gif library

Are you looking for the perfect good morning greeting? There are lots of ways to do it and gifs are a great way. Even better, are gifs that can easily be customized and shared - as actual gifs, or as videos. Here are a list of our first 10 good morning gifs. Each one you can personalize.
Click each thumbnail to open the gif in a new edit window where you can personalize it. These are thumbnails - actual gifs will be a bit larger and have smoother animation.
Let's begin...
Hitting the morning road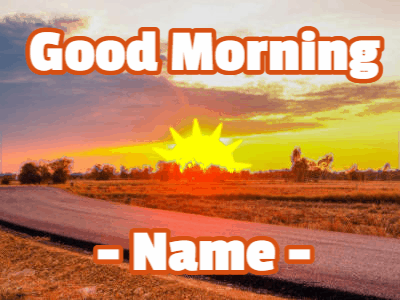 Plain and popular, this golden view of the morning sun over a road is one of our most popular Good Morning GIFs. Customize the top line and the bottom lines, and set their colors and fonts. Not much more to say about it. It's a good gif to send out before hitting the road.
Morning Coffee with Love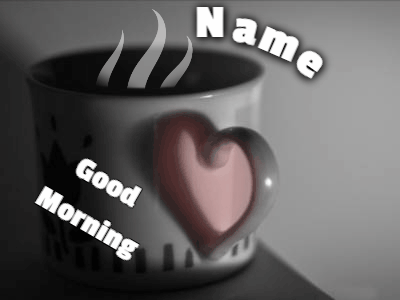 Animated steam from a morning cup of joe. The image is mostly black and white but the handle of the mug glows a red heart. Customize 3 lines of text including the font and color. The heart is nice, but it probably means you just want to send this gif to someone who loves you back.
Happy Sun is Happy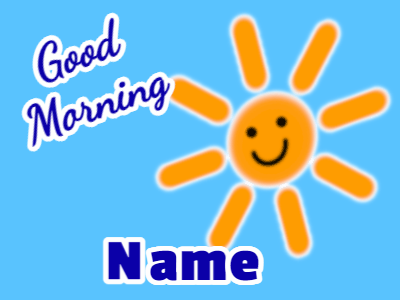 Look at this happy sun. Look at it! This gif is simple but popular. The cute sun rotates back and forth and the name letters bounce up and down. Customize the text, the colors, and the fonts. Hooray! Oh, also you can customize the background color.
Oceanview Good Morning GIF
I tried a thousand ideas over 4 hours before settling on this simple gif of swaying text. It paid off - it's a popular gif. Custom the text in the usual way: the words, the font, the colors. Despite the thumbnail, you can actually post 4 lines of text.
Good Morning text over flower pics
Seed packets. That's what the background images are. Nothing to do with morning, specifically, but nice to look at - and makes for a popular gif. This gif lets you customize just the name, font and colors.
Good Morning Lake Ducks GIF
Orange and blue morning of view lake water with a mama duck and three following ducklings. They gently float when not ducking (ha!) under water. You can customize the greeting, including the colors and fonts. And despite the thumbnail, you can actually customize 4 lines of text.
Sunburst Gif
A bright Good Morning to you. This sunburst gif, well, I guess it has two suns. I'm a bit confused - the background is definitely called a sunburst? Yes, I just googled it. And then there is the yellow sun too, turning in the opposite direction. Yeah, that makes sense.
Like all our gifs, you can customize the message, the colors, and the fonts. Use the image icon to change the background or upload your own images.
Good Morning Puppy Waking Up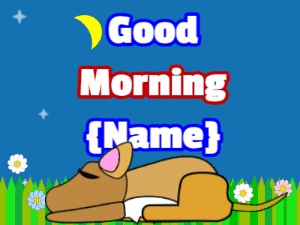 The sun comes up and this cute little puppy opens its eyes and says "hi". You can personalize 3 lines of text including the font and colors. A very cute gif to send someone first thing in the morning.
Good Morning Flowers
An elegant good morning gif with gently swaying flowers. Edit the text, the colors and the font. You can use the image icon to change the flowers and even upload your own background.
Good morning sunburst letters over mountains
A simple and calming gif with a background animation on the good morning message that you can customize. The background image was taken by Jean Beaufort and is called "Sunrise In The Mountains" which was released into the public domain here.
Conclusion
Those are our first 10 animated good morning gifs. Each can be customized in their own way. If you're an image expert, don't forget to try uploading your own images to make them more personal. More gifs are added to our site regularly so be sure to check it whenever you want to say thank you, celebrate a birthday, or any other holiday or special occasion.