Good Morning Gifs to Personalize
Open our good morning gif library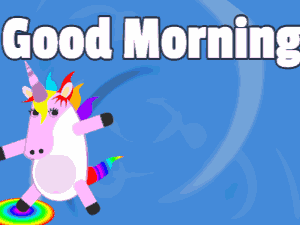 Are you looking for the perfect good morning greeting? There are lots of ways to do it and gifs are a great way. Even better, are gifs that can easily be customized and shared - as actual gifs, or as videos. Here are a list of our first 10 good morning gifs. Each one you can personalize.
Click each thumbnail to open the gif in a new edit window where you can personalize it. These are thumbnails - actual gifs will be a bit larger and have smoother animation.
Let's begin...
Good Morning Greeting in Spring
A rainbow appears behind tall trees, as you move through the trees, the good morning message rotates in and a name that you can personalize appears.
You can change the text on the rainbow, and of course the name. You can choose your own fonts and colors. The image icon will let you change the images contained in the gif or you can upload your own.
Good Morning Flowers
An elegant good morning gif with gently swaying flowers. Edit the text, the colors and the font. You can use the image icon to change the flowers and even upload your own background.
Good Morning Boom Box
This good morning gif is a bit more fun where curtains open and a boom box is raised to wake your recipient. Customize the name, colors and fonts.
Sunburst Gif
A bright Good Morning to you. This sunburst gif, well, I guess it has two suns. I'm a bit confused - the background is definitely called a sunburst? Yes, I just googled it. And then there is the yellow sun too, turning in the opposite direction. Yeah, that makes sense.
Like all our gifs, you can customize the message, the colors, and the fonts. Use the image icon to change the background or upload your own images.
Good Morning Dabbing Unicorn GIF
This unicorn, now semi-famous in the free-pic-for-download universe, is now a bit animated like nowhere else. See it prepare, see it peek, see it dab! Hearts! It has two lines of text to personalize. Personalize the colors and fonts. Use the image icon to change the background or upload your own images. One time someone replace the unicorn with a teddy bear. That was pretty cool.
Good Morning Confetti Shoutout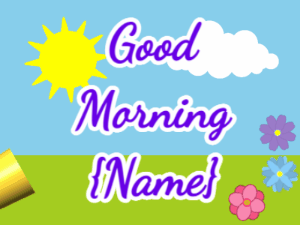 Animated good morning gif with a horn blowing confetti on a meadow background. This gif has spinning flowers (because real flowers do that!) and a pulsing sun. The confetti is made up of stars, hearts, confetting strips. But maybe your recipient isn't heart-worthy - just a friend maybe? then use the image icon to change the images used in the confetti. What fun!
Don't forget to customize the colors and fonts too!
Sunflowers and Balloons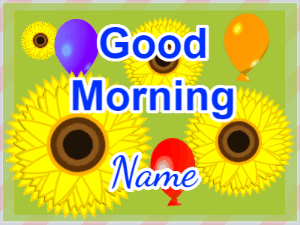 Use this image icon to change balloons or upload your own replacement images. Personalize the 3 lines of text, plus one more. So in conclusion, you can customize 4 lines of text. And set their colors and fonts too.
Morning Flowers on Blue
This variation of a previous morning gif is on a blue background with different flowers selected. Use the image icon to change the flowers or upload your own background. Customize the message, colors, and fonts.
Morning Coffee in a Meadow
Customize three lines of text in this animated good morning gif. It shows a steaming hot cup of coffee (or hot chocolate, I suppose), under a rainbow. Being that there is a rainbow, it must have just rained, so it's probably a bit cool outside, thus the abundant steam. I'm a bit confused because you can see the steam through the sprinkles. Is it magic? Nobody knooowwws.....
You can use the image icon to change the cup or upload your own images. Don't forget to choose your colors and fonts too.
Good Morning Wake Up Puppy Gif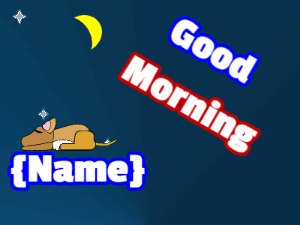 Night turns to day and with a little music, a little puppy wakes up to the sun. Personalize the good morning greeting, fonts and colors.
Conclusion
Those are our first 10 animated good morning gifs. Each can be customized in their own way. If you're an image expert, don't forget to try uploading your own images to make them more personal. More gifs are added to our site regularly so be sure to check it whenever you want to say thank you, celebrate a birthday, or any other holiday or special occasion.