Discord Emoji GIFs
Customize GIFs for Discord
Not just Emojis, here are two super cool ways to add custom animations to your Discord posts.
Don't want to waste time? Here are the 2 links you want:
Maybe you run a Discord server, maybe just a member, but either way, bring flare to your posts by uploading customized gifs with your messages. We have a myriad of customized gif options that you can use for your channel and posts. In fact, Discord allows you to upload images with your posts, so they can also be GIFs. Combine that with Editable GIFs templates, and you have a great chance for creativity and fun.
Emojis for Discord
Emojis on Discord might look like this and can be uploaded as part of server function or just uploaded as part of a post. View some examples here.
Our own emoji library allows for customizations as well as sizing. You can size for Discord, Slack, Zoom, or keep their default sizes. If you keep their default size (usually 300x300), they may be automatically sized by the service you upload them too. However, uploading the default size may be too large in terms of bytes, therefore we recommend using the default sizing options on each gif page.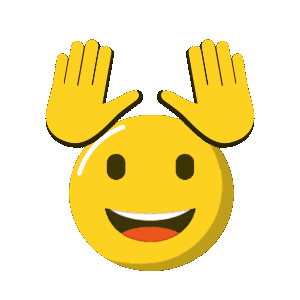 You can learn more about Discord and how they handle their emoji and reaction uploads. Here is a snippet:
For optimal emoji resolution, you can upload them in sizes up to 128x128 pixels, but they will be resized to 32x32 pixels. Additionally, the emoji file size must be smaller than 256KB.
Social Media Footers
We've created social media post footers. These are horizontally long, but vertical short gifs that you can customize with your own text, color, and images. Here is a favorite:

Social Media footers can be used in Discord or other services like Twitter. Just add them to the bottom of your posts to add some flare and personalization.
Customizing GIFs for Discord
Each gif that you can customize can come with some options. Here is an example of what that may look like:
You can use the given controls to change the emoji features. Use the image icon to change the images. For example you can use your logo as a thing that falls.
When customizing footers to upload you with your Discord post, you may want to color match. Discord has a color scheme. It looks like this:
Use the background color option on footers to enter the Discord color that you prefer.
Editable GIFs provides emoji gifs ready for you to customize with simple form entries, save time and effort of creating the custom emojis and reactions for Discord. You can create and send one out in under a minute, just search the library for something you like.